Writing
Writing Curriculum Intent:
At Corby Primary Academy we believe that writing should be both inspiring yet challenging in enabling our pupils to become motivated and adept writers in any given situation. They will use writing to express themselves and communicate with others and will write independently for a range of purposes across all curriculum areas. By the end of Year Six we intend for our children to have developed a love of writing and be able to express their thoughts and ideas clearly and creatively. We intend to create writers who will learn how writing requires 'crafting' through a constant process of re-reading, revising, editing and improving and enable pupils to be able to confidently use the essential skills of grammar, punctuation and spelling. At Corby Primary Academy, we set high expectations for our children to take pride in their work and have a fluent, joined handwriting style alongside their imagination.
Nurture: Children are nurtured through writing by being given the opportunities to collaborate and work together, communicating their ideas and exploring ways of challenging themselves and each other. Children gain independence by planning, writing and editing their own work.
Curiosity: We encourage curiosity in our children by making their writing learning experiences enjoyable and exciting, and encouraging all children to develop their creativity through their writing. Experience lessons are used to spark excitement for writing within children. Children are encouraged to explore a range of skills, vocabulary and sentences to engage the reader in their writing.
Diversity: During writing sessions children are exposed to a wide range of texts: fiction, non-fiction and poetry. Texts are matched to the diverse needs of the class. Throughout writing lessons children are taught to value and respect all ideas and viewpoints through 'kind calling out'.
Ambition: Each year, writing builds upon the knowledge learnt in previous years. Children are exposed to high-level texts and are given opportunities to challenge themselves and embrace their mistakes.
Implementation
At Corby Primary Academy writing is taught through 'The Write Stuff' approach. This method allows pupils to improve their oracy and widen their vocabulary in every lesson, whilst deepening their understanding of writerly choices.
All our writing is taught through the 'writing rainbow' which provides a lens for the writer to focus through to ensure all writing is effective and engaging for the reader, whilst meeting the intended purpose.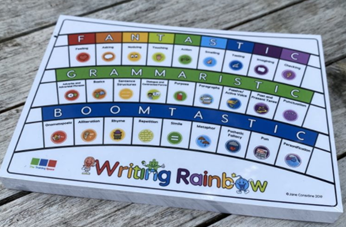 Nursery to Year 1
Writing in nursery to year 1 focuses on the 'FANTASTIC' lenses which enable the pupils to have a clear focus for their writing.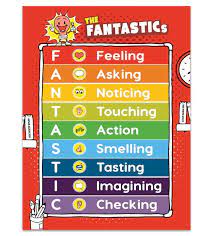 Lessons are taught through an 'I, we, you' structure to enable children to work collaboratively to gather vocabulary and skills needed to build words, phrases and sentences.
Year 2 – year 6
Year 2 through to Year 6 use all 3 aspects of the writing rainbow within their work: the FANTASTIC's, GRAMMARISTIC's and BOOMTASTIC's.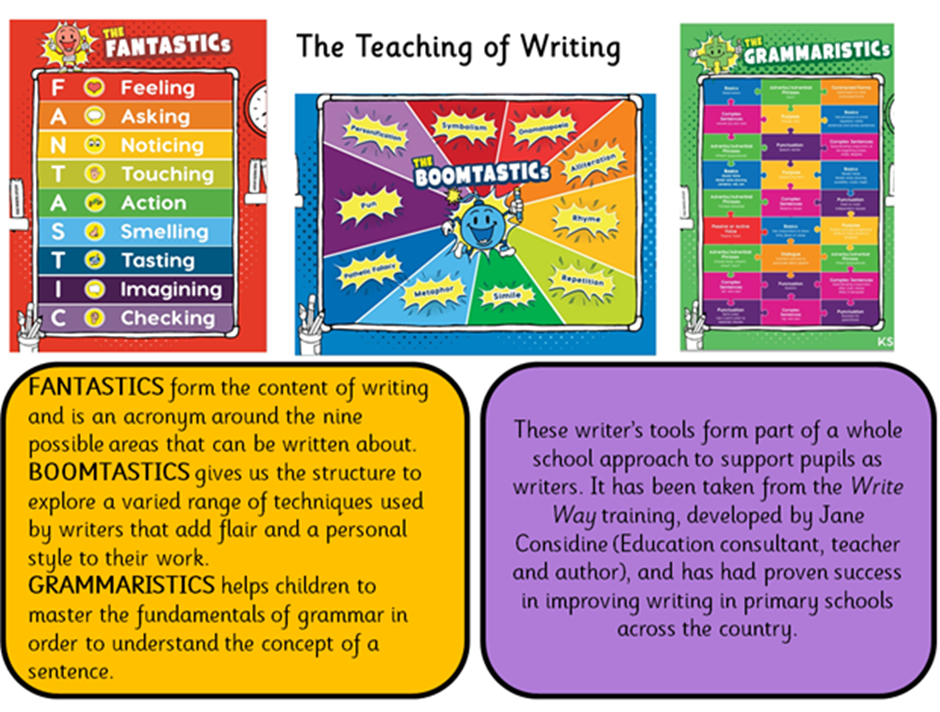 Writing is broken down into units. During a unit, children first look at an example piece of writing like the one they will be producing, looking at how it is set out and what skills are used throughout it.
Then children engage in a series of 'sentence stacking lessons' as a class to build a class model. Sentence stacking refers to the fact that sentences are grouped together chronologically to engage children with short, intensive moments of learning that they can apply immediately to their writing. An individual lesson is based on a sentence model, broken into three separate chunks:
1. Initiate section – a stimulus to capture the children's imagination and set up a sentence. Collecting and discussing vocabulary the children will need for their sentence.
2. Model section – the teacher models a sentence that outlines clear writing features and techniques.
3. Enable section – the children write their sentence following the model. Children have the opportunity during this section to deepen the moment and use skills they have previously learnt.
After sentence stacking, children then plan, write, and edit their own writing thinking carefully about their vocabulary, grammar, punctuation, and the impact their writing has on the reader.
Handwriting

At Corby Primary Academy we use the Kinetic Letters programme to teacher handwriting. For me information please click here and see the plans below.
Impact
Children make good progress in writing. They develop their knowledge of language and vocabulary in extended pieces of writing and support this with their knowledge of spelling, punctuation and grammar.
Children become confident in writing and be able to use writing across a range of genres. Children of all abilities are able to succeed in all English lessons because work is appropriately scaffolded and differentiated.
Pupils understand how to edit their work to ensure that they can adapt their writing and improve it.
Attainment in writing is measured using the statutory assessments at the end of EYFS, KS1 and KS2.